A truly model city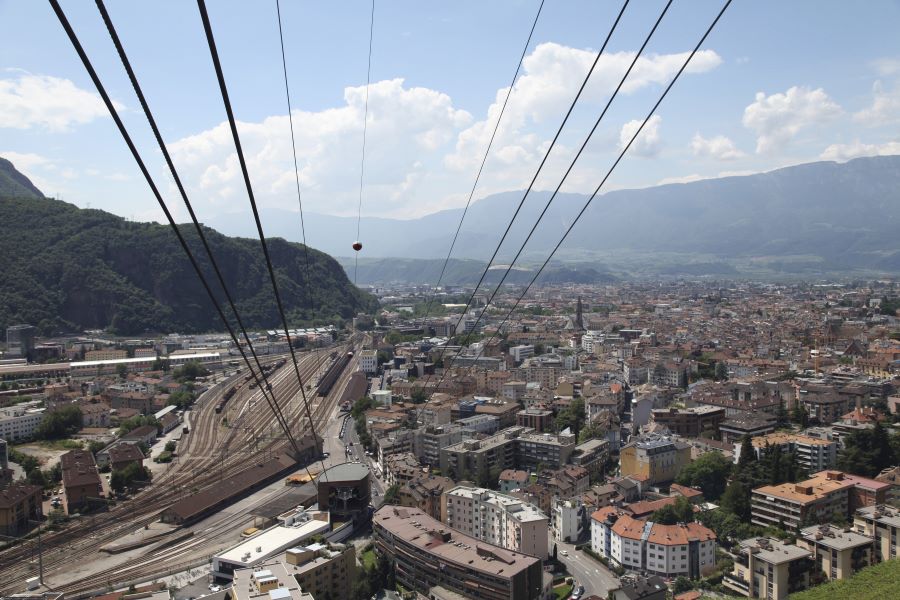 Of the almost 8,000 municipalities and 111 provincial capitals in Italy, Bolzano stands out thanks to its extraordinarily sustainable approach to development, helping it win the Gold Environmental Municipality award. This is Europe's highest prize for municipal climate protection, awarded by the European Energy Award certification programme and initiated by the South Tyrolean Climate House Agency. The deciding factor? Bolzano's exemplary approach to adapting to climate change.
The climate crisis breathing down our neck and the
great transformation before our eyes Nowadays, no one disputes the need for a radical change of direction. By joining the European Covenant of Mayors for Climate and Energy initiative, the city of Bolzano has committed itself to reducing its own carbon dioxide emissions by at least 40% by 2030, compared to the 2010 level. In addition, the city has been working on increasing the greening of the city for years. The list of interventions include: promoting green roofs; soil unsealing; the improvement of energy efficiency in the municipality's own buildings; and energy-efficient building renovation, using renewables. In the context of adapting to climate change, with a focus on the hazard zone plan, improved population protection and the expansion and repair of protection systems for our slopes. Bolzano City Council also understands how crucial it is to change citizen awareness, in order to achieve the goals. To this end, and among other things, a climate savings book with practical tips has been designed.
Nature in the urban space
On the right bank of the River Isarco, a bioenergetic path has been created, covering an area of 1.5 hectares as a recreational habitat and place for a regenerating break. Signs on the trees explain the therapeutic effects on various bodily organs, based on electromagnetic frequencies, inviting visitors to hug the trees or just linger a while by the river.
Faster by bike
For an Italian city, Bolzano has an almost unapparelled network of inner-city cycle paths. Around 50 km of cycle paths link the five city districts with all the main destinations, including places of interest. The tourist office has produced a brochure, dedicated to urban cycling, with nine thematic cycling excursions and tips for the Bolzano city area (ask at the information desk!). If you're a cyclist of any level, even as a visitor, you'll travel safely and reach your destination faster than by car, usually even faster than the public transport system, especially at rush hour.
Bolzano Bozen Card
Since its inception ten years ago, the Bolzano Bozen Card has been making a (lasting) difference for visitors. Not only does it provide free use of all South Tyrol's public transport, it also allows free entry to Bolzano's museums and castles. Guided tours of the city by the tourist office are also included.
The Bolzano district heating network
An unmistakable feature of Bolzano South, below Firmian Castle and its Messner Mountain Museum, is Alperia Tower, standing out from afar. For the past four years, this new heat storage facility has been delighting passers-by with its use of lighting, especially at night. Bolzano's district heating plant has been in operation for about 30 years and is constantly being expanded. The importance of heat in an alpine city like Bolzano, understandably, is the importance of heating. In fact, it's a legal requirement that heating be allowed from mid-October to mid-April.
Tips for visitors and city explorers
Bolzano has an excellent public transport system – so do take advantage when for seeing the city. You could also take a ramble or rent a bike to reach the city's sights, restaurants or wine cellars, or even the places of interests on the periphery. On your way through the city, take your water bottle with you and fill it with Bolzano's top-quality tap water. In fact it's long been nicknamed Talferlagrein - a word play after the River Talvera and the superb local wine Lagrein - because of it's so good! There are 19 public drinking fountains in the city. Also, try to buy and consume in such a way that you leave as little waste as possible.
Environmentally friendly transport
www.gemeinde.bozen.it - see Bike Sharing Fahrrad Bozen
www.sasabz.it - city centre bus routes & timetables
www.suedtirolmobil.info - for connections & timetables for public transport across the province
https://www.altoadigemobilita.info/en/tickets/holidays-and-recreation - for the holiday Mobilcard: economical & sustainable