Weather forecast

Today: New snow in the north in the evening
Increasingly cloudy from the north in the afternoon with new snowfall starting in the very north in the evening. Over night the precipitations will spread to the entire northern half of the region. Snow line between 1000 and 1300 m. Partly strong winds. Quite mild, maximum temperatures from 5° to 15°.
---
Tomorrow: Partly stormy winds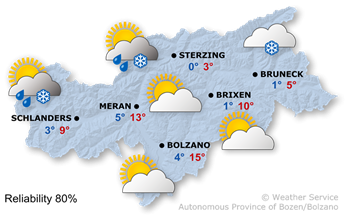 The day will start with last precipitations in the north of South Tyrol, which will fade away in the morning. Then increasingly sunny from the south. Strong, partly stormy winds from the north. Maximum temperatures from 3° to 15°.
---
Next days Weather forecasts: Sunny, decreasing winds and colder
On Sunday mostly sunny with some clouds moving through at times. In the evening some snow showers on the main ridge of the Alps, but less than in the previous days. Still windy. Monday sunny weather with Föhn winds still in the north. Tuesday mostly clear sky with weakening winds and decreasing temperatures. Also on Wednesday very sunny weather.