Weather forecast

Today: Unstable conditions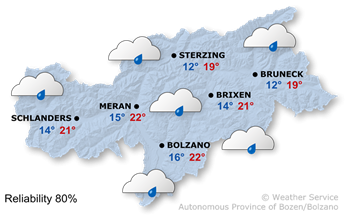 Clouds will prevail with at most a few short sunny spells over the wider valleysand some showers during the day. In the evening, the rainfall will end. Temperatures in the afternoon will reach values between 17° and 22°.
---
Tomorrow: Sun and clouds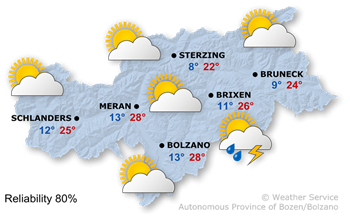 Residual clouds will dissipate in the morning, then sunny weather. During the afternoon, some cumuliform clouds will develop and isolated showers or thunderstorms are possible. Maximum values from 22° to 28°.
---
Next days Weather forecasts: Quite sunny and warm
Mostly sunny weather is expected on Wednesday, only isolated thundery showers will be possible. Thursday there will be a mix of sun and clouds, local thunderstorms can't be exclided. Friday no significant changes, summery and quite sunny with possibility of some rain showers or thunderstorms in the afternoon. Also for Saturday summery conditions.