On tour!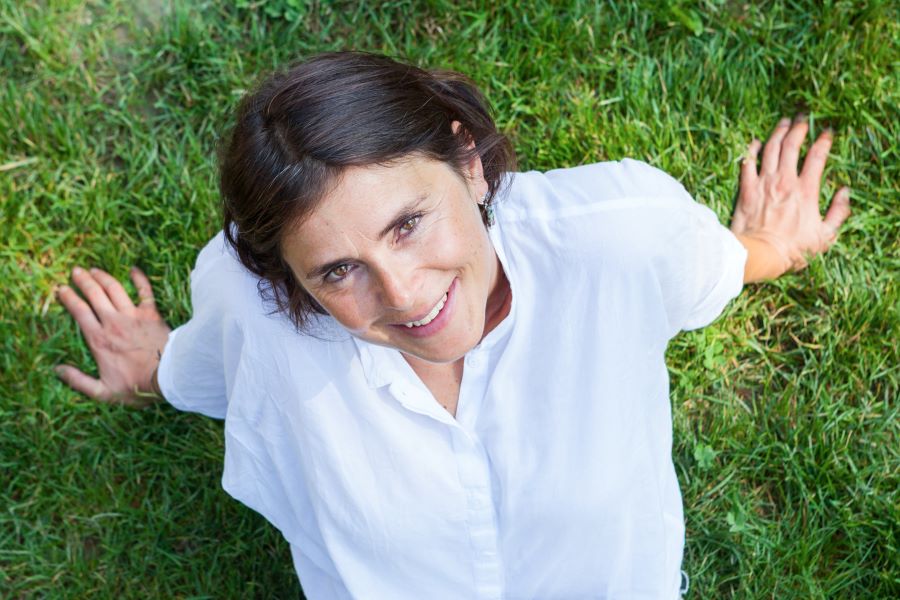 Elisabeth Tocca from Bolzano obtained her tour guide licence when she was 22, after a challenging yearlong training course, followed by a state exam. As a university student, the profession provided a welcome source of income. What helped was that she already spoke our three local languages: Italian, thanks to her father's background; Ladin from her mother; and not forgetting of course, her perfect knowledge of German. She also obtained an excellent knowledge of English and French, due to her studies of English and Romance languages at Innsbruck. All this opened the door to even more travel as a city guide.
I found it easy to put myself in the shoes of a tourist, to observe with a foreign perspective and to see my hometown through the eyes of a visitor. I could live out my passion for travelling at home, aided by my encounters with "the strangers", as the tourists were still called thirty years ago. This was during the first years of the Bolzano Christmas Market, at the beginning of the 1990s.
What changes have you noticed over the years?
Today, Bolzano is one of Italy's secondary main hotspots, with even Monocle magazine putting it in the top 10 Small Cities to visit. So they come from everywhere – the USA, Japan or China, for example. Often they've been to Milan, Rome, Florence or Venice, but make a trip here to Bolzano before heading home: perhaps to see Ötzi the ice man, or because it's the gateway to the Dolomites. International tourism has changed enormously, meaning visitors are looking something distinctive, like Bolzano. Good shopping has become a prerequisite, with fine food and drink particularly popular. Visitors also really like that in just 10 minutes, they can be at over 1,000 metres and have the spectacular view of the city and the most beautiful mountains in the world.
So city tours are as popular as they used to be?
Absolutely! Also, because most people don't just want to get the usual tips on city discoveries from books or the internet. Many are looking for an encounter with the authentic, conversation with local folk – even if it's only with a homegrown tour guide, if time is very short. When groups are small, a dialogue ensues, which is inspiring for visitor and guide alike.
As a city guide, what are visitors' most frequent comments?
Bolzano is so clean! Or, how beautifully green and tranquil the city is! They're more than curious about how our history of autonomy shapes our everyday life, why we have bilingual street signs, what everyday life is like in a border region, how multilingualism works, in which language do we think, feel, or dream. They also ask about our local Alpine language Ladin, which some confuse with Latin. But they're also fascinated by more personal details about our everyday life. For example, my family background is something special: my mum is Ladin and my father from Rome – and that interests many visitors. I grew up speaking Ladin and Italian at home, went to German-language school – so trilingualism was a matter of course for me. For monolingual tourists - who are becoming fewer and fewer – that's mind-boggling!
How big are the groups usually?
It depends. There are homogeneous, closed groups that book with us: groups from Asia are usually pretty large; but those from the USA tend to be rather small, with somewhere between four and six people. Then there are the mixed groups, who could be from anywhere, having made individual bookings through the tourist office. I rarely know what to expect beforehand, but I like the element of surprise and I having to react spontaneously to the group.
What do you like about this job?
Connecting with the people – I'm not so keen on monologue tours. Maintaining a group's attention, that's the challenge and the thrill every time.
And what are your favourite places in Bolzano?
What I find unique in Bolzano are the contrasts. The medieval town centre has its narrow porticoes, while at the other side of the river, towards Gries, there's the rationalist "new" town, built under fascism, with its more modern arcades. Urban planning and history both tell an exciting story about Bolzano. I recommend a visit to the Documentation Centre in the Victory Monument. If you find sacred art appealing, I can take you to Dominican Church with the Chapel of St. John's – with stunning 14th and 15th century frescoes, but also the cloister in the Franciscan monastery. I send photography lovers to Piazza Mazzini, to catch the evening glow of the Catenaccio Alpine range and savour one of the city's best ice creams at "Avalon".
Do you ever have any funny or bizarre moments on city tours?
Lots of them! When a big group is put together, funny, embarrassing, crazy things always happen! Once I was in front of the cathedral, explaining the Gothic to a group from the USA. I noticed they all had puzzled looks on their faces. Then, the bravest lady asked me what Bolzano Cathedral had to do with 1980s American subculture (the all-black teenage Goths). They'd had little exposure to gothic art. I found that quite funny. Another quite amusing request I get is to give a short presentation in Bolzano's three languages, so that they can hear the difference and learn to distinguish them.
Tips & news for city tours
A central European atmosphere, architectural contrasts, a cultural meeting point, encounters in nature, tradition and world class gastronomy: all these conspire to create the unique "Bolzano Mix". Of course not forgetting that Bolzano is a departure point for excursions around the province – in the Dolomites, but not only. But that's another story!
The Bolzano Tourist Office organises city tours and guided walks, to discover historical and artistic treasures. Mostly run in cooperation with the Association of Guides of the City of Bolzano, in the main languages German, Italian, English. The maximum number of participants is 15 (unless
indicated otherwise). On request, bespoke city tours are also available in other languages. The duration varies from around 2 hours to a full day. In addition to the fixed dates, special openings can be organised to allow visits to otherwise inaccessible locations.
There are some classic focal points. There's the historical centre of Bolzano, with or without a visit to the South Tyrol Museum of Archaeology; the "In the footsteps of Bolzano legends" tour; an excursion to the viewing terrace at Colle; urban trekking with "Bacchus Urbanus" tasting; "a toast to Bolzano city beer" and the South Tyrolean Speck safari. Guided tours of the city theatre or theatrical tours of the Don Bosco and Europa-Novacella districts with the "Bolzanism Museum". New to the programme are the city walk tracing the water routes, a walk along the edge of the Bolzano Caldera (ancient giant volcano), and the Benedictine monastery of Muri-Gries with the Old Gries Parish Church. Many "wow" experiences can be had on discovery tours through lesser-known city neighbourhoods, or the industrial zone including the technology quarter.
From April until the end of October, the guided visits and tours calendar is particularly dense. Depending on the month, the focus of the calendar changes according to seasonal conditions. The online monthly programme makes it easy to keep track.