Reaching for the sky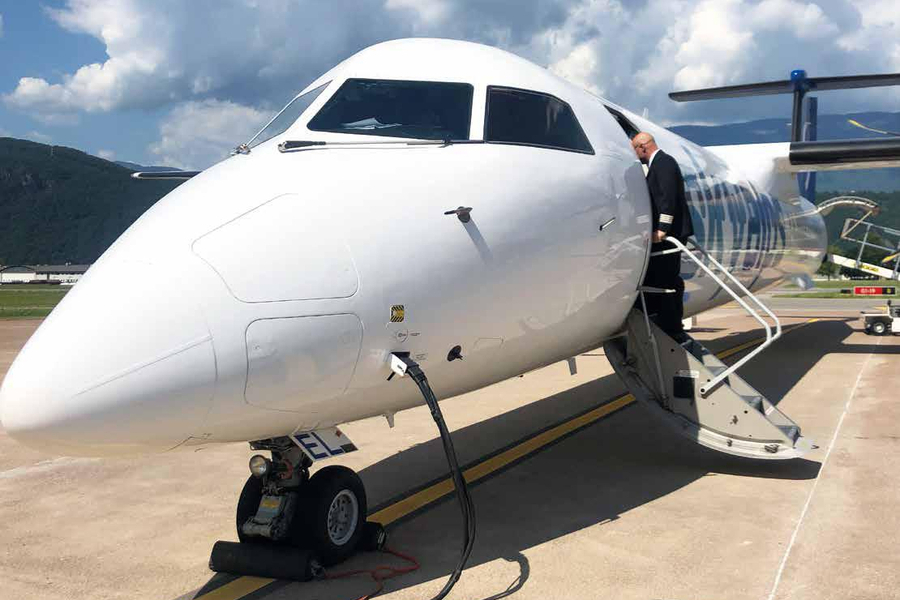 Is the name Fri-El Green Power familiar? If you don't associate it with flying, it's because it's one of the leading renewable energy companies in Italy. Skyalps is a subsidiary of Fri-El Green Power AG. Here, we look at the role this forward-looking, environmentally-orientated business plays: now and into the future.
The back story: just two years ago Josef Gostner, CEO of the Fri-El Group of Companies, bought the Bolzano airport operating company and infrastructure. This was in partnership with the real estate investor René Benko and the building contractor Hanspeter Haselsteiner. Following acquisition, Gostner founded Skyalps, the regional airline offering flights since June 2021. He tells bm Magazine what flying - his personal passion - has to do with Bolzano: as a location in itself and its international accessibility.
How does Skyalps want to focus on South Tyrolean tourism?
South Tyrol is famed for its hospitality. Skyalps sees itself as an important part of this comprehensive service sector. From the start, Sky Alps hasn't focused on lowcost and or mass tourism. Bolzano/South Tyrol and the entire alpine region must strive for sustainable, ecologically responsible tourism. Moreover, we're representatives of South Tyrol as an unrivalled living space and we take this responsibility seriously. Yes, South Tyrol IS a tourist destination and Skyalps FLIES in tourists who want to visit us. Accessibility is an issue for a destination that has an average stay of 4-5 days, and there's an expectation that a journey of 1,000 km must not exceed 3-4 hours. At the moment, overnight stays in South Tyrol amount to 33 million but only 11% are with international visitors. By comparison Innsbruck, which has a much shorter tourist high season (three months in winter and three months in summer), has almost 30% international visitors. This is despite South Tyrol's tourist season lasting ten months, of which 40% is winter tourism and 60% summer tourism. So, what attracts guests to South Tyrol? The Alps, the sun and the Mediterranean food. The city of Bolzano will also benefit from targeting international visitors. Our clientele are higher end of the sector, where quality trumps everything. Skyalps has already received letters from customers in Düsseldorf and Berlin, thanking us for the fact that South Tyrol can now be reached in just a few hours and that it's now far speedier to reach the south side of the Alps. That is the essence of our business model, we want to be ambassadors of the Alps and we define ourselves as local globetrotters.
What destinations does Skyalps currently offer from Bolzano?
We started operations last June with charter flights to Sardinia (Olbia) and Spain (Ibiza) and scheduled flights to Parma, Rome, Berlin and Düsseldorf. For the winter, we're planning an expansion of the flight network to include London, Brussels, Amsterdam, Rotterdam, Hamburg and Copenhagen.
A new start with pandemic omens: How is air mobility shaping up at the moment?
Clearly, the pandemic created a severe crisis for the aviation industry and has gravely impacted tourism as a whole. On the other hand, it has increased the desire and longing for travel. In the meantime, we have flown many South Tyroleans to the beaches of Ibiza and the even closer Olbia - all of them overjoyed to take off from Bolzano! At present, passengers can be picked up by shuttle buses. Four and five-star hotels often pick up their guests even from Venice airport or Verona. But from 2026, in just four years, it will be possible to travel by train to the new San Giacomo train station, near Laives - right on Bolzano airport's doorstep. Public transport plays an increasingly central role, also for reaching the airport. So the benefits extend to hotels and guesthouses as well, not to mention the positive impact on the environment and climate.
Speaking of sustainability: air travel doesn't have a good reputation, due to a disastrous ecological footprint.
Europe has set itself the goal of becoming carbonneutral by 2050, but Bolzano Airport will have achieved this goal by 2030. How? At the moment, South Tyrol produces 150% green energy, which is sold on. We want to invest the surplus in our fleet and vehicles. As early as 2024, we expect to fly 19-seater electric aircraft, moving to 80-seaters in the 4-5 years after, as technology progresses. This will allow us to offer the most sustainable aircraft in the regional sector. All the vehicles that move around our airport area, our entire fleet, will also be electric. Electric motors emit no pollutants and move almost silently. Considering that 80% of the world's population live in cities and that it is there that we will soon have clean air, the advantages are clear. Electric air mobility will have a huge impact, reducing our reliance on infrastructure such as motorways and rail networks in the future. That's the reason I'm already optimistic about the near future. In the current process of transformation towards a green, electrified world, we in South Tyrol have a head start because we already produce 150% renewable energy. Now, the global challenge is to find better energy-storage systems. This is the great challenge, also and especially for air traffic. Half of all global flights are shorter than 500 miles – and that's the sweet spot, the optimal range for electric aircraft. Also, electric aircraft have fewer moving parts, so are less maintenance-prone. Electricity is cheaper as fuel, meaning flight costs could drop by more than half, to around $150 per hour, thereby increasing margins for airlines that rely on this type of mobility. Finnair has already purchased the first of Heart Aerospace's Electric ES-19 aircraft for short-haul flights, which are expected to go into commercial service in a few short years. Heart Aerospace is a Swedish start-up company and there's a lot going on in the electric driving scene at the moment.

www.skyalps.com
www.bolzanoairport.it